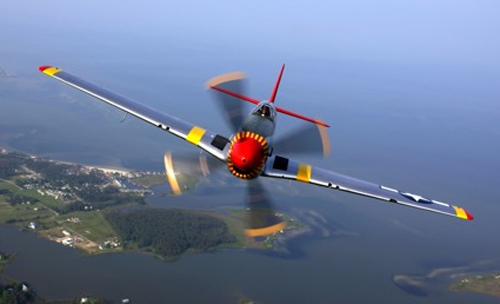 As John F. Kennedy put it, "The human mind is our most fundamental resource." In the workforce, getting employees to maximize productivity and profitability is a universal concern; boosting these key metrics has long been paramount.
In the 1920s and '30s, the Hawthorne Studies, conducted at Western Electric's Hawthorne plant, near Chicago, investigated how changes in the physical and psychological environment could increase worker output. Since then, it's been recognized that an industrious and knowledgeable team can be a powerful force, and team building has become an optimization strategy. But just how effective are team-building tactics? Let's take a look at 10 adrenaline-fueled team-building activities, while we explore some of the questions and controversies surrounding the topic.
10. Zorbing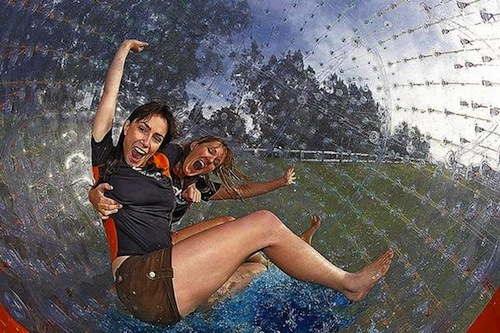 Hurtling down a hill at high speed in a plastic ball ought to get employees' pulses racing. The advantage of this activity is that it doesn't require any special expertise: all zorbers have to do is remove their shoes and jewelry, then climb inside for an experience that has been described as akin to catching a ride inside a washing machine.
Hotel Morris, in Mariánské Lázně, Czech Republic, offers zorbing as a team-building activity boldly claimed to "disrupt deeply rooted stereotypes" and "improve mutual communication." How exactly the recreation accomplishes this is less clear. Behavioral economics strategist Erik Vermeulen says that when designing team-building programs, the desired outcome must be clear – sound advice to anyone selling or facilitating such activities.
9. Snow Kiting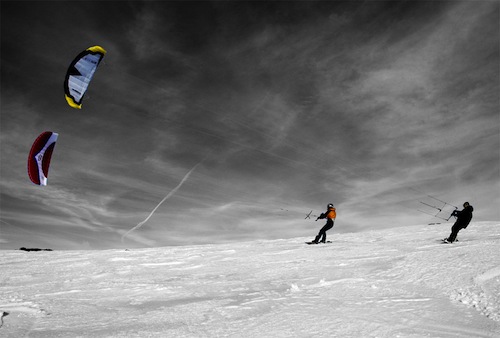 With a kite snagging the wind, and either skis or a snowboard attached to their feet, snow kiters can fly down and even up slopes, execute jumps, and generally zoom over icy surfaces. Cortina d'Ampezzo, in northern Italy, markets this unique diversion as one of many team-building activities that can be enjoyed during a stay in the town.
Perhaps the reason companies choose to take their employees on these kinds of outing is so that they can learn a lesson from the workings of sports teams. Whether in a sporting capacity or in the office, it's important that team members have shared goals, a drive for success, and the ability to support one another and work together.
8. 4×4 Off-Roading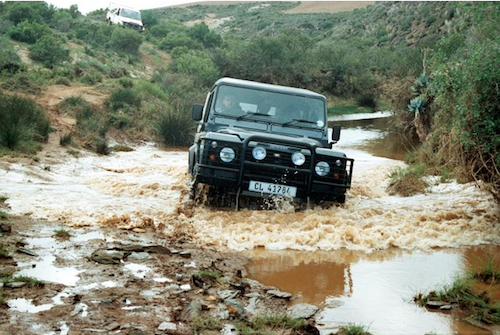 Other interesting team-building activities focus on overcoming physical obstacles – like this muddy river. Iqela, a company in South Africa, offers 4×4 team-building excursions led by qualified instructors, and muscling the vehicle over difficult terrain could make for an exciting day.
That said, Erik Vermeulen argues that when planning team-building programs, ensuring that everyone understands the message and learns something is far more important than any thrill they might experience. "Any programme that does not include scheduled indoor time will not transfer learning and will not establish recall beyond the activity itself," he says. Vermeulen also encourages companies to use facilitators who have extensive experience in business and who use strategies founded in substantial research.
7. Bobsledding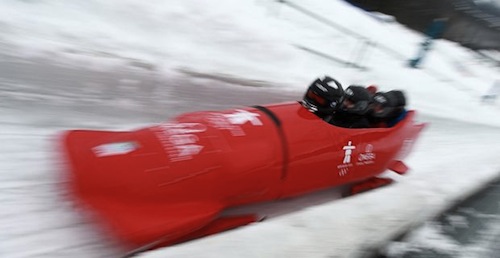 Simply "having a good time" and "getting to know each other" during such excursions aren't business outcomes, says Vermeulen. In fact, employees are often unable to see the purpose behind team-building activities. A study by Vodafone UK and YouGov found that certain team-building events may be seen as a waste of time – and even as being humiliating.
British Bobsleigh offers a bobsled experience at their facility in Bath, England. Yet while powering down an icy track, negotiating twists and turns at high speeds, may be a great buzz and useful as a team-building exercise, it shouldn't be a priority. Vodafone UK enterprise director Peter Kelly reckons that focusing on the day-to-day is of prior concern – meaning giving employees "the tools they need" and "easy access to customers, colleagues and information."
6. Tubing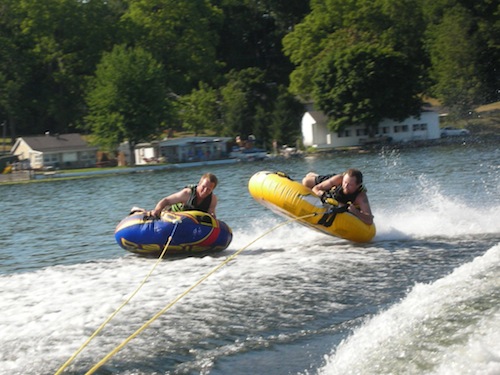 South Africa's Rent A Teambuilding gives businesspeople the opportunity to rock over waves in an inner tube towed by a speeding motorboat, which could be a great deal of fun – especially when there's the strong chance of being launched into the air.
Perhaps surprisingly, those who responded to the Vodafone UK and YouGov survey said that adrenaline-filled experiences – like tubing – were the least effective method of team building. And while such activities might not be as potentially mortifying as being made to eat insects in a "bush tucker trial" or attending a lingerie party (as some workers have done), most of the surveyed employees contended that participating in extreme sports doesn't help them to work more effectively together. Neither do trust exercises. So what does? Well, according to Peter Kelly, "People place more value on open, collaborative and flexible ways of working every day than one-off team-building exercises."
5. Sandboarding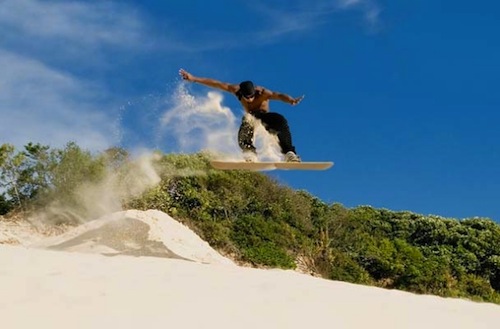 The collective adrenaline rush of racing down sand dunes while strapped to a board may fit into some team-building strategies – it's certainly offered in various related packages around the world – but other approaches enable workers to develop more relevant skills as they perform activities.
Chatsworth Consulting Group suggests using "experiential learning," which revolves around simulations or exercises in which employees practice the skills they are trying to apply in the workplace. The simulation removes the risk factor and encourages people to go outside their comfort zone, allowing them to test skills and behaviors they might not otherwise want to.
4. Canyoning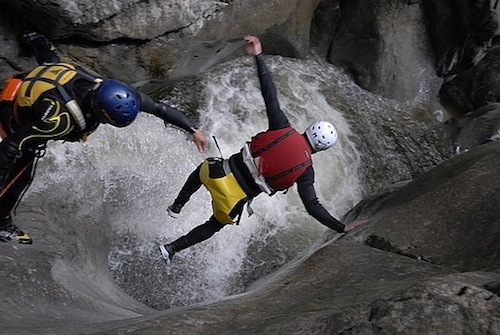 Experiential learning also allows participants to discuss the simulation, reflect on what worked and what didn't, figure out how to utilize skills in the future, and pinpoint which behaviors need to be modified.
Serendipity Adventures in Costa Rica offers canyoning activities where participants hike up to a river source and descend waterfalls using ropes and harnesses. It sounds like it might be a bit of a rush, and coordinating different people's tasks while determining the best route to take probably requires more teamwork than most activities. Still, it's perhaps unlikely to generate as relevant discussion as, say, experiential learning. That's why many think it's so crucial to create a team-building action plan that will bring results by leading towards a desired outcome.
3. Fighter Jet Flying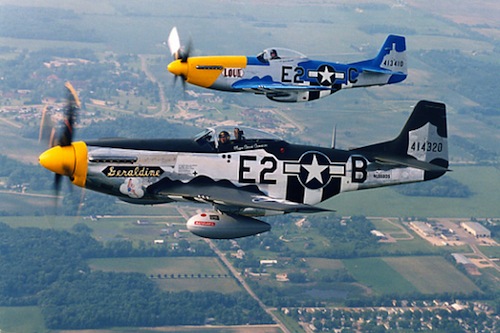 In fairness, some companies offering team-building and corporate events do work hard to provide that crossover application. One example is Fighter Pilots USA, a firm based in Chicago, Illinois. Fighter Pilots gives employees a once-in-a-lifetime chance to actually fly a fighter jet. But while this may present the occasion for bragging rights and a massive thrill, what else can it do for employees?
Well, the company also offers the option of a keynote speaker who applies concepts of airplane flight to corporate-relevant principles like innovation, competitiveness and cooperation. And according to Erik Vermeulen, indoor, discussion-type exercises should account for at least two thirds of any team-building program. "The message behind the activity is what really counts," he says.
2. Shark Diving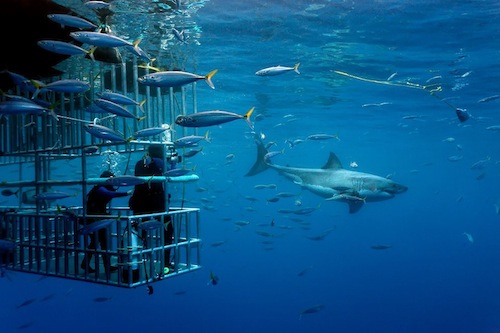 Coming face to face with a great white shark is more a nightmare than a dream for most people, but if you fancy giving it a go, Australia is the perfect place. Calypso Star Charters in Port Lincoln sends adventurers plunging underwater to meet this fearsome predator – and fortunately, the protective cage keeps them from becoming fish food.
According to Business Events Australia, their country is a great location for team building, offering stunning surroundings, ocean activities, and unique outback and rainforest experiences. But while shark cage diving may be inspirational, build camaraderie and provide lots of hair-raising fun, some might question whether such activities should truly be given the "team-building" moniker.
1. Stuntman Training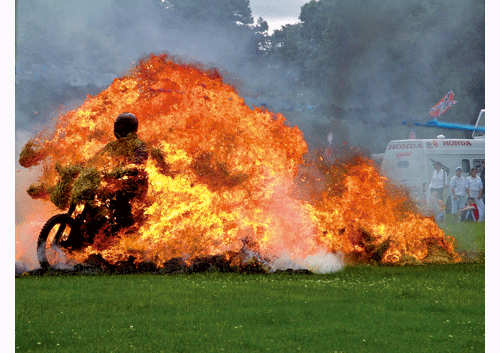 Stuntman training, like that offered by UK company Chillisauce, sounds like it's a real thrill. This novel pursuit involves learning how to fire weapons, how to take a fall without getting hurt, and even how to break bottles over other people's heads. However, while it's certainly possible that training to recreate stunts might hone team skills, it's far from guaranteed.
But before managerial dreams of taking employees to new extremes are crushed, consider a more dynamic view, involving more significant benefits. And even if, at least by themselves, adrenaline-fueled activities may not be the most effective team-building practices out there, there's still a place for them: it's called corporate recreation.